---
Welcome to our online book club!
- Virtual Voyage Book Club
We'd love to invite you to join in! For this book club we aim to find literature that we can explore and enjoy. We'll discuss ideas, and themes we find in literature, what we liked about the stories and what we didn't like. Each month a new theme will be announced, and a variety of titles that carry the theme will be selected. We will look at genres, formats, art styles, storytelling mediums, and anything else we can think of related to the realm of stories.
This month's bookclub focus is afrofuturism/afrofantasy. . You can pick one of these books, (or if you're just that motivated you can read all three!). Click on the titles to check them out in online form, or you can come to the library and we'll get you a physical copy. Once you've recieved and read the book/s of your choosing you can head to the discussion forum, which you can access by clicking the link at the bottom of this page.
If you think of movies, tv shows, games, anything, that reminds you of these stories and these themes please feel free to include those in your discussion posts too!
Happy reading Voyagers!
This program is for ages 13-18.
Ashes of Gold by J. Elle
Summary: Half god and half human, Rue has made a vow to restore the magic that the Chancellor and the Grays have stolen from the Ghizoni and take back their land; she has more fully embraced her identity among the people of Yiyo Peak, but she is also from East Row in Houston, and girls from East Row do not give in to oppressors.
Tristan Strong Punches a Hole in the Sky by Kwame Mbalia
Summary: Seventh-grader Tristan Strong tumbles into the MidPass and, with allies John Henry and Brer Rabbit, must entice the god Anansi to come out of hiding and seal the hole Tristan accidentally ripped in the sky.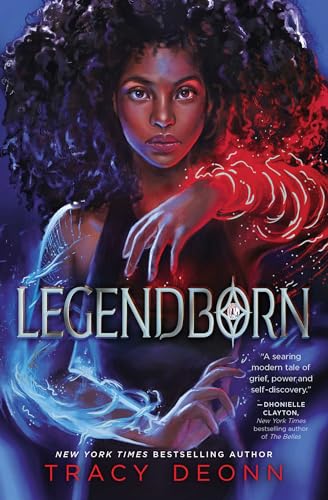 Legendborn by Tracy Deonn
Summary: After her mother dies in an accident, sixteen-year-old Bree Matthews wants nothing to do with her family memories or childhood home. A residential program for bright high schoolers at UNC-Chapel Hill seems like the perfect escape--until Bree witnesses a magical attack her very first night on campus. A flying demon feeding on human energies. A secret society of so called "Legendborn" students that hunt the creatures down. And a mysterious teenage mage who calls himself a "Merlin" and who attempts--and fails--to wipe Bree's memory of everything she saw. The mage's failure unlocks Bree's own unique magic and a buried memory with a hidden connection: the night her mother died, another Merlin was at the hospital. Now that Bree knows there's more to her mother's death than what's on the police report, she'll do whatever it takes to find out the truth, even if that means infiltrating the Legendborn as one of their initiates. She recruits Nick, a self-exiled Legendborn with his own grudge against the group, and their reluctant partnership pulls them deeper into the society's secrets--and closer to each other. But when the Legendborn reveal themselves as the descendants of King Arthur's knights and explain that a magical war is coming, Bree has to decide how far she'll go for the truth and whether she should use her magic to take the society down--or join the fight.
---
Guidelines for Posts and Answers
Be respectful of others ideas and opinions.

Try to be positive and gracious when there are disagreances.

You can disagree with someone, but always do so respectfully. Ask questions. Avoid personal attacks. And keep an open mind. It is fine to dislike a book that someone else loves. Having different tastes in books is part of what makes book clubs fun. Books we differ on are often the best books for discussion!

An example discussion post could include your thoughts about the book overall, or themes in the book, other stories, books, games, songs, etc. that you related to the theme, certain characters, or certain events in the book, or just what you liked and didn't like about the story.